#1 Texting Software
Simple for your first project
Advanced for the next

Featured on
Forbes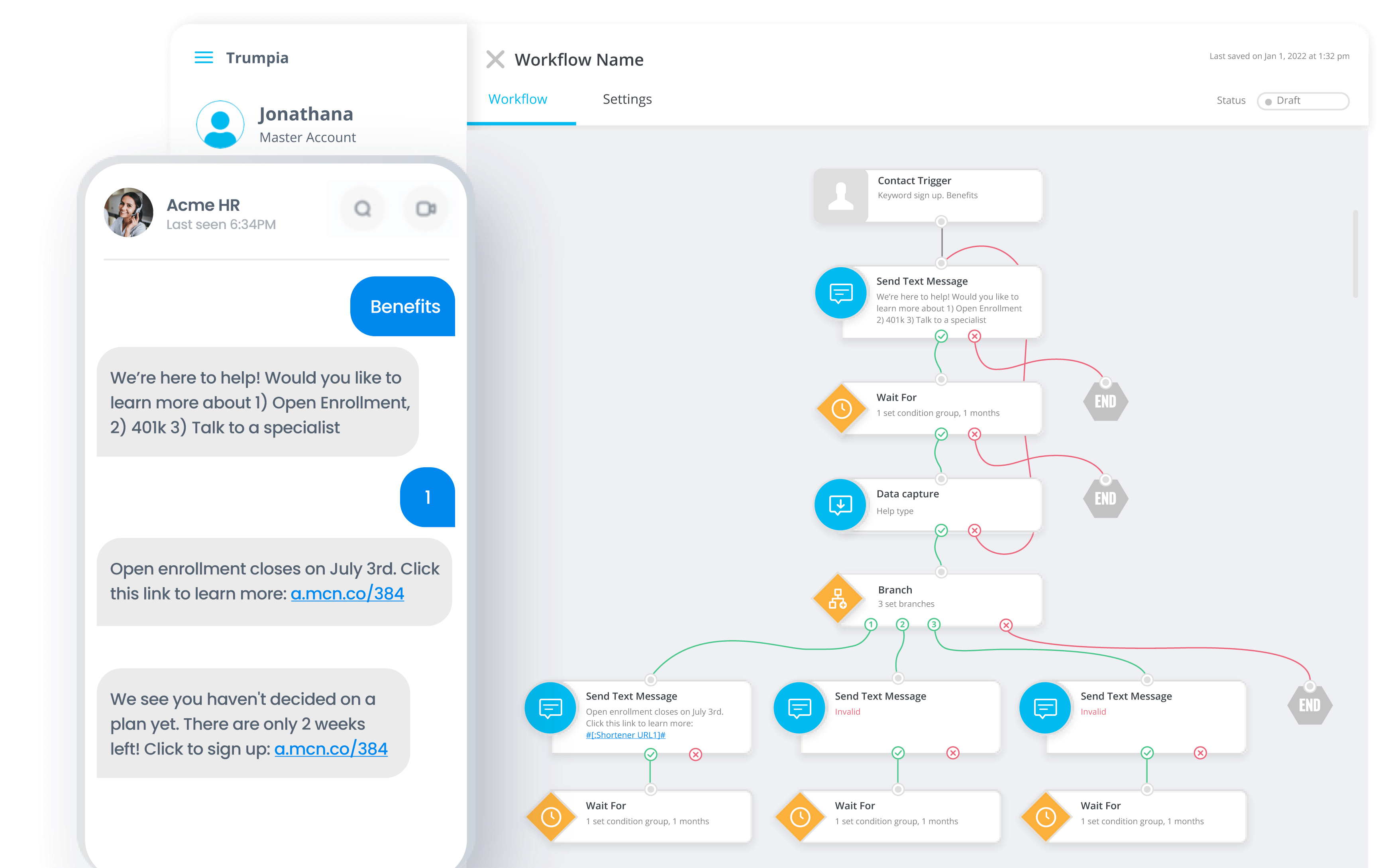 Behavioral Tracking used
to target messages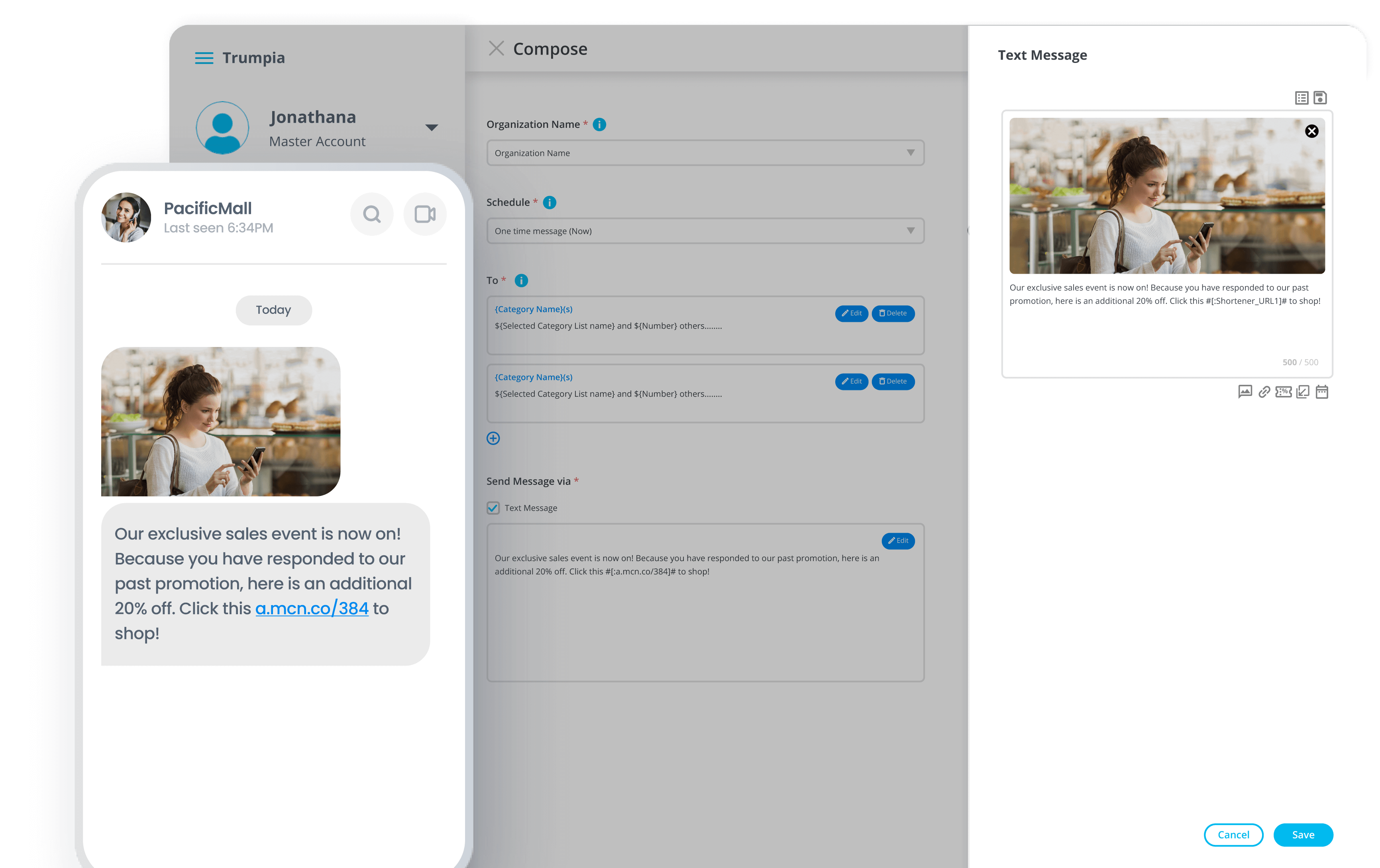 Employee texts in
a keyword
Ask questions to learn more
about your employees
Capture their responses
Automatically send a
reminder if they don't click
Trumpia is built with growth in mind; whether you want to nurture your revenue, customer satisfaction, or employee relationships. First, Trumpia offers you the easiest texting platform to start with. But Trumpia goes beyond just contact collection and mass blasting. Trumpia is built to create personalized interactions with your contacts, all automatically. Moreover, instead of one-size-fits-all interactions, Trumpia allows you to create completely custom-tailored workflows that can build a life-long relationship with your subscribers.
Easy to Start with Room to Grow

Customize Workflows. No Coding Needed
Get Measurable Results

22

%

Revenue Growth
7.5

x

Response Rate Boost

Trumpia By The Numbers

1

+

Billion Messages Sent
Annually
Over 140,000 Customers and
Resellers
In The News
"Trumpia is a well-known marketing automation company with A-list clients such as Jamba Juice, Chick-fil-A and Omni Hotels & Resorts. We picked it as the best service for marketing campaigns because its standard plan offers robust automation and targeting features such as drip campaigns, dynamic targeting, link tracking and data capture. Its advanced plans include more intricate marketing features such as auto campaigns, conditioned drip campaigns, real-time targeting and behavior tracking."

The Federal Emergency Management Agency, or FEMA, is launching an updated feature that would let Americans text to find an open shelter in the event of a major disaster. Users can text "shelter" and their ZIP code to 43362 to receive a list of nearby shelters within 200 miles of the ZIP code. Per an announcement from FEMA shared first with CNN, users "will be able to click on the shelter address inside the text message and view directions."
Get Started Easily

Trumpia offers the most sophisticated set of SMS features, and it all starts with the basics. Get started quickly with SMS Keywords, mass texting, and appointment reminders.
Once You Automate, You Won't Go Back
As your projects grow, and you no longer have the time to manually carry out every
messaging project, Trumpia's advanced tools are just what you need.
Automate Chores, Automate Results

Set our software platform on autopilot so it sends the right messages at the right time for you. Workbench, our drag-and-drop workflow builder, even lets you fully customize campaigns.

You Can't Text Without Targeting

People don't tolerate irrelevant text messages, especially when it's SMS marketing. Have our system learn more about your subscribers so you can automatically target messages.

Management for Growing Organizations

Manage your team's use of our SMS marketing system by controlling which features or data each user can access based on their role. Enjoy centralized reports too.

More Channels = More Reach & Impact

Use a single integrated system that synchronizes multi-channel campaigns - SMS, MMS, email, and voice. See how powerful your text marketing can be when combined with other channels.

Multiple Integration Options

Integrate Trumpia's capabilities with your existing systems. If you don't have an in-house programmer, hire our custom development team to do it for you.

Advanced Lifecycle Engagement Automation

Instead of a collection of isolated SMS marketing features, our lifecycle engagement process automatically builds customer journeys; from the initial opt-in and nurturing, to conversion and the feedback loop.
Service
Powerful technology is nothing without powerful service to go with it. That's why we provide a number of services that go beyond what others offer, ensuring you get the most out of our software. Our consultants and account managers are available to help you grow from your initial use case to a comprehensive automated SMS marketing strategy.
What Our Customers Have to Say
"Trumpia's SMS marketing provides us with the most direct, immediate and affordable way to connect with local residents and quickly build a loyal following. The return on investment we've enjoyed since we began using Trumpia's platform has been tremendous."

"The price is right, and the API is straightforward. We use it to coordinate deliveries and shipments. Truckers get alerts when shipments are available to be picked up, and customers get alerts that their order is ready and on the way."

"All in all, Trumpia has been really effective. One of the best features that Trumpia offers is their one-on-one contact between a designated Trumpia representative and our organization. This has been immensely helpful whenever I have random questions or inquiries about the system."
Download Our Competitive Advantages Handout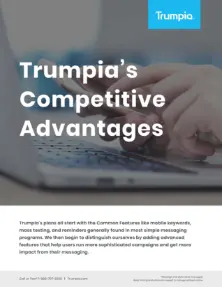 Resellers & Affiliates

Rebrand and sell our SMS marketing technology as your own or simply refer us to your customers. With our award-winning mass text platform combined with your expertise and business network, it's a win-win partnership.