Douglas J is an award-winning salon/spa franchise that offers premium services across the Midwest. And with six Aveda Institutes in addition to their four salons/spas, Douglas J used Trumpia to sort their customers by location and effectively send more relevant texts.
The Challenge
With a marketing strategy that consists of sending texts to over 300 customers a day, Douglas J needed a messaging software that was capable of scaling to that large number of recipients. On top of that, their multiple locations made it critical that they find a way to organize customers into groups so they weren't sent messages that didn't pertain to them.
"We have 6 cosmetology schools and 4 salons, so being able to sort contacts and schedule messages has been huge. We send at least 1 new promotion a week, and each week I pull a report to see how many codes have been used," Ember Osborn, the Director of Marketing for Douglas J
Our Solution
With Trumpia, Douglas J found a system that first and foremost lets them text a large number of customers at once. By creating and posting mobile keywords on their marketing collateral and notifying customers as they checked out, they were able to efficiently collect phone numbers for their database. Fill out the form to view the full case study!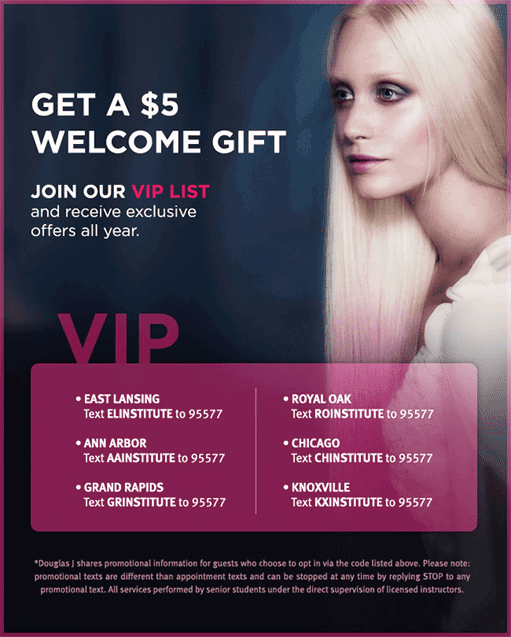 *Please note that this campaign is no longer active. Also, proper disclosure is required when advertising your mobile keyword. It is recommended that you consult with your legal counsel to ensure you are compliant with current regulations.