Super One Foods operates a chain of more than 30 supermarkets across four states. Emphasizing quality and value, Super One has upgraded nine stores with Trumpia software to send ads and weekly specials to their customers.
The Challenge
Management at a particular Super One location wanted to reach a nearby college's market of approximately 15,000 students. They had used only traditional means such as print ads and coupons to pull in customers but realized that students were unlikely to read local print media.
"We designed an iPad kiosk in our stores to sign people up through a mobile sign-up page. Each store also has a three-foot by four-foot banner and in-store signage … that tell customers to text our keyword to opt in. We've also launched a radio campaign to grow enrollment, but our most consistently effective tactic is to have employees educate and inform customers about the program. Now I'm trying to utilize data sets and basically put texting into the hands of other people rather than managing every little thing myself. They know what's going to sell best in their markets." Andy Bakker, Store Manager of Super One Food
Our Solution
Using Trumpia's software, Super One Foods ran a digital marketing program that specifically targeted a younger clientele. Fill out the form to view the full case study!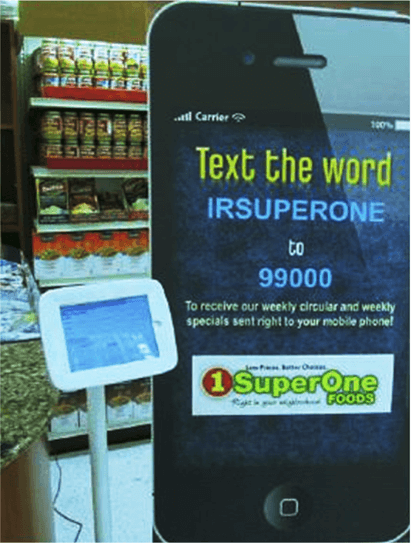 *Please note that this campaign is no longer active. Also, proper disclosure is required when advertising your mobile keyword. It is recommended that you consult with your legal counsel to ensure you are compliant with current regulations.